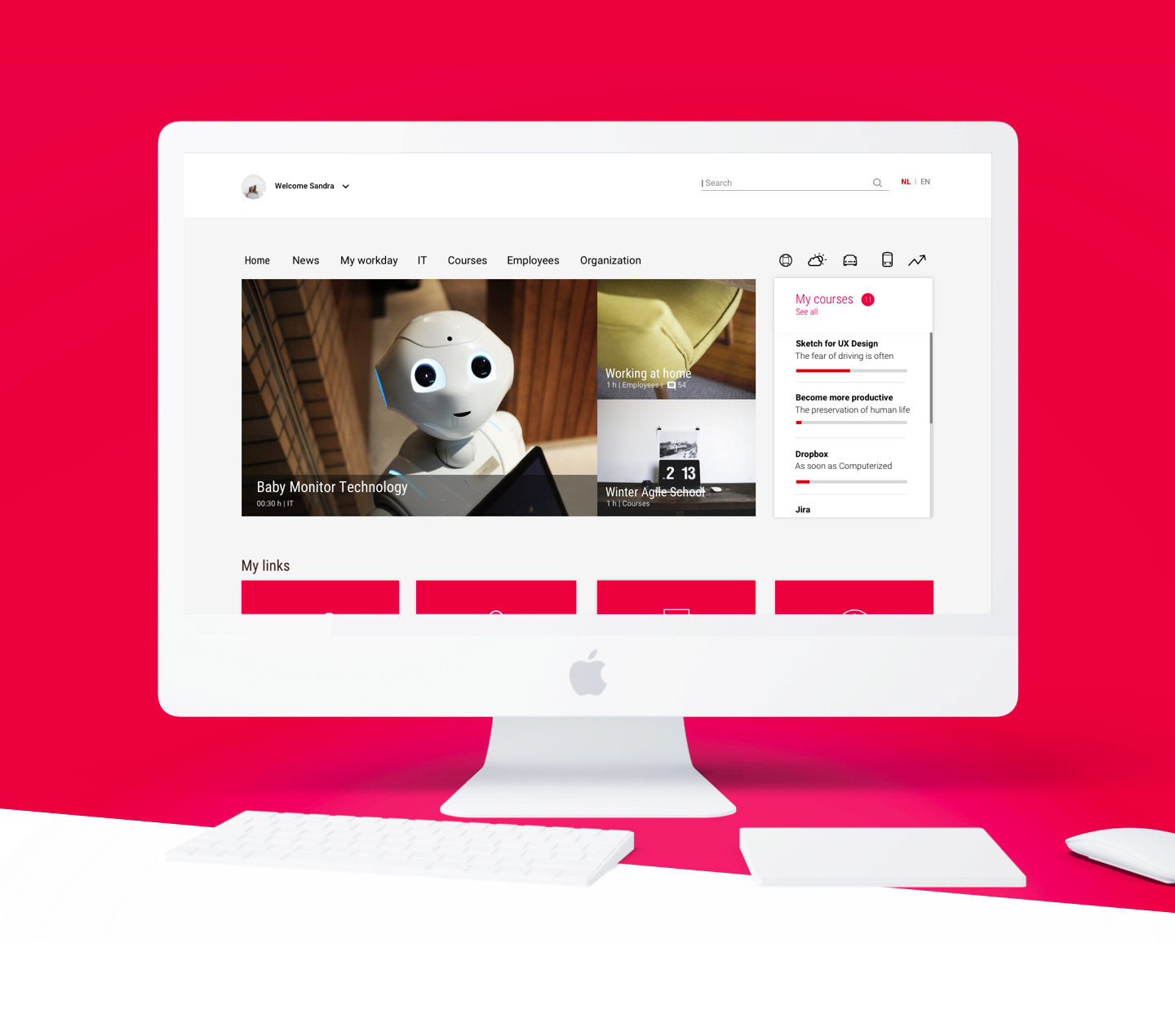 For a company with about 26,500 employees, of which 4,500 are hired externally, we needed a new intranet design. While the intranet has remained a neglected within the company is continually working to improve the customer site on UI / UX area, and is virtually silent. Employees see the intranet as a necessary evil that causes many irritations, but they need to declare their hours, reserve their holidays, follow workshops and stay up-to-date with company news. The problems you will encounter over quickly and easily find the right information by terminology that is often unknown to newcomers, do not see the difference of pages that are far no jurisdiction because of their position or employment; a manager has different needs than a developer and an internal employee has access to other possibilities and functionalities than an internal employee. Integrated programs such as Connections have a completely different interface in which a reorientation takes place. And finally: it only works well on PCs. In short, too many to mention.
I tried to solve some of those problems in the next UX / UI design.
Good visual hierarchy is about organizing information in a way that's usable, accessible, and logical to the employees. Objects that are bigger demand more attention. The biggest elements should be the most important on the homepage of intranet such as the company news to inform the employees the newest insights; the smallest elements should be the least important like the symbols top right, that indicates whether there are traffic jams, what the status is of public transport or the shares on the stock exchange, which are fun to have but do not need. By spacing elements out and keeping a lot of whitespace on the page, this design makes it easier for people to find the content. Alignment creates order between elements by using a grid layout to develop visually interest as well as a taxonomy-driven visual hierarchy. Proximity separates elements from each other and is also the quickest way to associate similar content, like the direct links where you can make reservations for holidays, hour registration or booking a room, while it is more visible than the use of links. The interaction with colleagues is clearly separated in proximity from the space up and down.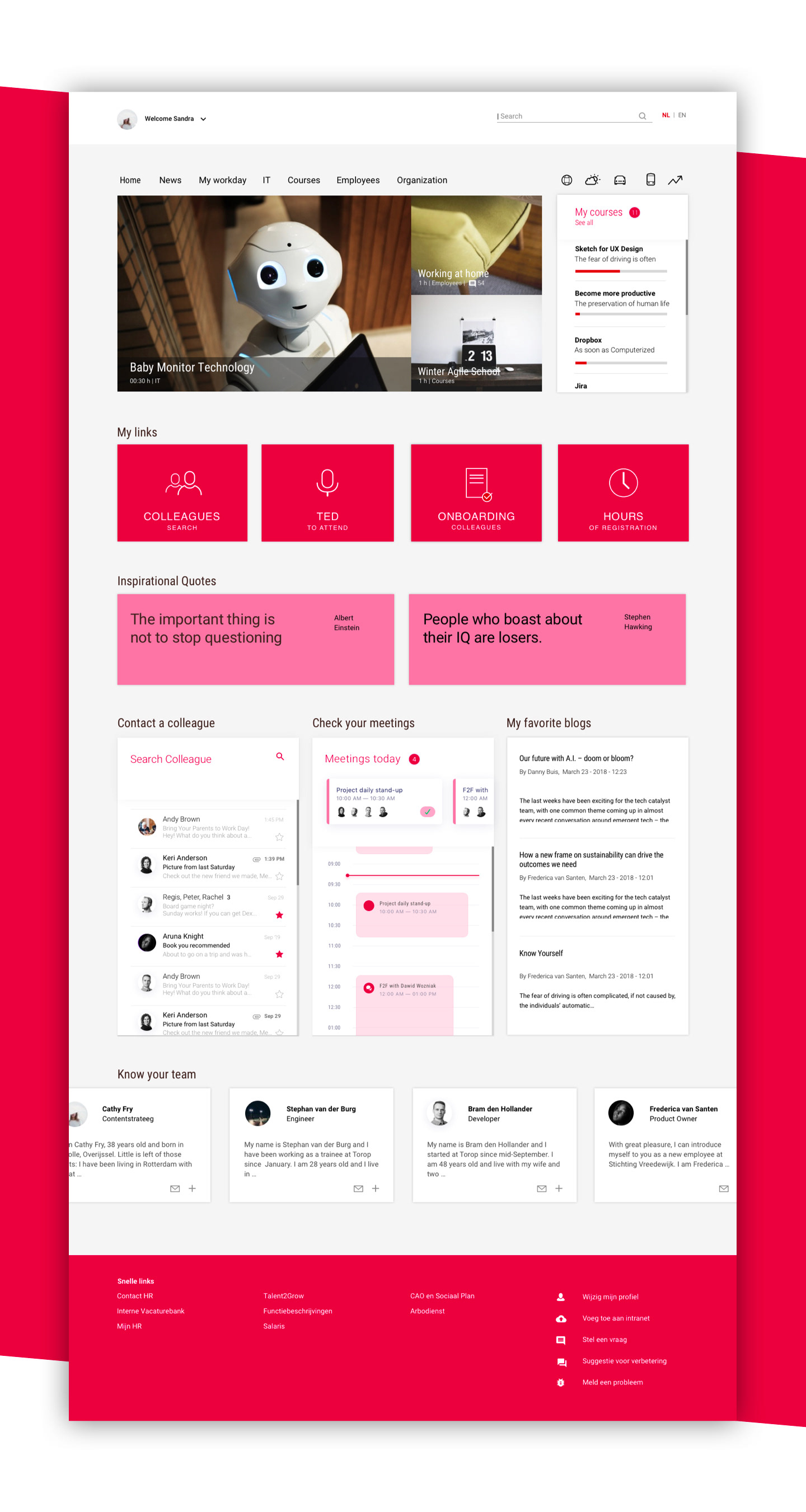 More mea

ningful and efficient intera

ctions with an intranet will mean more customization and personalization of features for individual employees or teams. If users are seeing what they want and need to see on an intranet platform, they are more likely to enjoy using that platform. This could be as simple as showing content to a particular department or team or suggesting relevant internal content based on interests. As training and skill advancement becomes a higher priority in the workplace. Learning Management integrated with an intranet will allow people to train new stuff and measure training programs. An intranet personalization is not only of value to the users of the intranet, it benefits the entire organization with increased productivity. 
Social features in intranets are just as important as positive company culture when it comes to employee engagement. Social intranet tools like blogging, giving feedback to articles, sharing content, emailing, getting to know your direct team and video integration are included to encourage engagement between teams and between individual team members. The more users engaging with the social tools in an intranet, the more feedback you'll get on how to improve and optimize this area of your digital intranet strategy.